Until earlier this year, PSY's "Gangnam Style" had held the position of most viewed video on YouTube for almost five years.Today, it has 2.96 billion views. It was the first Asian song to successfully cross-over to the American market, making it to #2 on Billboard's Hot 100 chart and even being featured on numerous talk shows and even the NFL. However, without the polished glamour and sex appeal of other pop songs, PSY's success begs to answer the question: Why did so many Americans watch "Gangnam Style"?
While most people would attribute the song's success to its comedic absurdity, others believe that there are more negative and nuanced reasons for an Asian entertainer to skyrocket to the top of the charts. Michael K. Park suggests that one reason for PSY's popularity is rooted in how his performance reinforces the emasculated Asian male discourse in American media. In "Gangnam Style", the men are unattractive and clownish (PSY, Yoo Jae Suk, and Noh Hong-chul are all professional comedians) while the women are hyper sexualized (e.g. 4Minute's Hyuna, the women doing yoga, and female dancers in tight outfits.) According to Park, this juxtaposition emphasizes how Asian men are not only sexless but how that lack of masculinity is supposed to be funny. In addition, when PSY was featured on mainstream American television (The Ellen Show, SNL, and the Today Show), he was often not given the opportunity to introduce himself as an entertainer, and usually delegated to performing his comical horse dance repeatedly. Like how minstrel shows would entertain at the expense of African Americans in the early 19th century, Park argues that PSY joins William Hung, The Green Hornet's Kato, and The Hangover's Mr. Chow as Asian characters that are laughed at for who they are more than anything else.
Despite Park's scathing analysis of America's perception of Asian male entertainers, there are two Asian male musical acts that are gaining traction in the American music market: K-pop boy group BTS and even more recently, the teenage rapper Rich Chigga.
A hip-hop/R&B idol group originally marketed to Korean teen girls, BTS has exceeded expectations by becoming popular internationally and breaking numerous records for a K-pop group in Asia and the Western music market. Some of their greatest accomplishments have been: the Mnet's Asian Music Awards (MAMA) 2016 Artist of the Year, Korean Consumer Forum's Brand of the Year Award's Artist of the Year and most recently, having 1 million copies of their new album "Her" pre-ordered. In the American music market, they won Billboard's 2017 Top Social Artist award and sold-out their five-stop US tour earlier this year. The New York Times even published an infographic based on Youtube views from January 2016 to April 2017, that places BTS as the 44th largest music fandom in America. The fact that BTS sold tens of thousands of tickets from New York to Chicago in a matter of minutes shows that the group is certainly popular—but for a different reason than their Asian-American predecessors and PSY.
As a fan of BTS myself, I attest their popularity in America to the same reasons that K-pop idol groups flourish in South Korea. People enjoy listening to their music, admire their performances and learn more about their personalities through variety show and livestream appearances. In an industry saturated with company produced love songs, BTS distinguished themselves by being able to pull off the norm, but by also championing their self-composed songs about more controversial topics that affect young adults. The song "No More Dream" encourages their young audience to follow their true dreams, rather than those of their parents and society. Member Suga's self-produced mixtape "AgustD" addresses his own experiences with depression and social anxiety. Their music video for "I Need U" depicts the members dealing with mental illness, violence and loneliness, as well as the joys of being in the moment, reckless behavior and friendship. Another music video, "Dope", brags about how hard the boys have worked to get to their position as top artists and has reached 221 million views as of today.
Apart from the topics they sing and rap about, BTS have also differentiated themselves from the electronic pop songs that dominated the late 2000s (e.g. SHINee's "Replay", BIGBANG's "Lollipop", Super Junior's "Sorry Sorry", etc.) with their musical style by debuting as a hip-hop/R&B group. Hip-hop originated from minority-dominated American neighborhoods in the South Bronx rife with poverty. Since the 1980s-1990s, rap music has been associated with gangsters, crime, and violence–– qualities that are also associated with black masculinity. By crafting rap as their own, BTS highlights their own manliness and rough qualities in a similar fashion. Though their lyrics do not focus on the same topics, some of the imagery associated with American hip-hop has been adopted by the group: The chorus of "We are Bulletproof part.2" features the members singing "click click/bang bang" while they perform choreography that mimics pointing guns at the audience. BTS's musical style is not only reflected in their music but also in their stage outfits. In their first performances, the group wore black shirts with gold chains, bandanas underneath snapbacks and basketball shoes (though still wearing eyeliner and stage makeup.) A performance trailer shows the members marching in formation, wearing military uniforms and dancing to heavy metal music with gunshots in the background. Even their marketing includes masculine imagery: "BTS" stands for the romanization of their Korean name, which translates to "Bulletproof boy scouts", their official fan club name is A.R.M.Y., and their light stick is in the form of a bomb.
However, BTS (like many K-pop groups) usually changes their concept for every comeback; in terms of message, musical genre, styling–– and because it's the topic of this post, even their masculinity. They appeal to multiple audiences for not only embracing their tough hip-hop image, but by also fitting typical beauty standards and boyish qualities expected of idols. Their fan club name A.R.M.Y. actually stands for "Adorable Representative M.C for Youth". They partake in what some would categorize as effeminate: they wear makeup, sport brightly colored contacts and hair, and have performed in choker necklaces and scarves. And despite how this may clash with their rough, hip-hop image, their looks matter. This is because idols' appearances and their objective attractiveness to their fans is an intrinsic part of K-pop: it is typical for a group to a have a designated member(s) who are "in charge of visuals"– the conventionally good-looking members of the group. It is expected of idol groups to perform cute actions called aegyo, sexy dances or even have their shoulders measured for broadness to appeal to fans. Commenters on YouTube videos of K-pop performances and online forums such as Reddit and NAVER mention the song quality and dancing just as frequently as they do on how idols look. In fact, when BTS attended the May 2017 American Billboard music awards, one of their "visual" members, Jin, grabbed attention for his good looks: viewers unfamiliar with the group labeled him as "the third member from the left", which became a trending topic on Twitter. The group's ability to straddle the lines of gender norms is a shift from the strict views that Americans have towards masculinity, mainly because in the K-pop industry these expectations are absent. What's more is that fans from all around the world are loving it: Amazon and a Sony subsidiary have allowed pre-ordered or stocked BTS's new album, their most recent single "DNA" has reached the #67 spot on the Billboard Hot 100 chart for the week of Oct. 14. as well as other success on the World Album and World Digital Song Sales charts.
BTS's rise to popularity in America, while record-breaking for a K-pop act, was based on grueling pratice and promotion since the members were teenage trainees. This is completely different from another Asian male musician to recently break into the mainstream market: an eighteen-year-old Indonesian rapper named "Rich Chigga." His song "Dat Stick" has 69 million views on YouTube since its debut in early February 2016, went on to sell at least 500,000 units and lead to a nation-wide tour.
Though "Dat Stick" is a legitimate rap song, the track was originally only "half-serious." Brian Imanuel, Rich Chigga's real name, had been posting comedic videos on Vine and Twitter starting from age eleven and still wants to purse comedy as his long-term goal. In the music video, Imanuel wears a pink polo shirt and a fanny pack and is surrounded by three friends as they drive around, show off alcohol and hang out. In a reaction video that helped "Dat Stick" become viral, rappers (including popular artists such as Desiigner and Ghostface Killah) comment on the juxtaposition between the tough rap song and the fanny pack; presumably because a fanny pack is more often associated with someone's middle-aged father, rather than an up-and-coming hip-hop artist. One reactor, 21Savage, comments "[The song]'s aight. Yeah. The music don't match him, though." Another rapper named Cam'ron says "This kid's like 16. His voice is mad deep, he don't look nothing like he sounds. It was dope though." Despite Imanuel's appearance, the rappers unanimously end up positively reviewing the song.
As it became a viral hit through Facebook newsfeeds and YouTube, "Dat Stick" gave Rich Chigga the achievement of being the first good Asian rapper to break into mainstream American music market. And though Rich Chigga was "verified" by other rappers, it can't be said that the popularity of "Dat Stick" is solely due to his rapping abilities. First off, his name "Rich Chigga" immediately brings attention to race: not only his Asian heritage (even though he is Indonesian) and but also because it references the n-word. Many of the YouTube comments on "Dat Stick" are racist jokes that poke fun at how Rich Chigga differs from the Asian stereotype.
A big factor in "Dat Stick"'s appeal is the irony that Imanuel doesn't look or act like the typical American rapper: but to determine whether or not his popularity is due to his race being used as a spectacle or his skills as a rapper are taken seriously is difficult to say. Could audiences enjoy "Dat Stick" because they think it's funny to see what they perceive to be an emasculated Asian man spit hyper-masculinized rap? It's possible. But it certainly isn't as strong of a case for neo-minstrelsy like PSY in "Gangnam Style." While Rich Chigga's deep voice and lyrics are hyper masculine, this masculinity isn't emphasized visually. But he isn't emasculated either (unless you count wearing a pink shirt): there are no over-sexualized women and none of the boys do anything outwardly funny. Rich Chigga's subsequent releases have followed this trend, with "Glow Like Dat" and very recently, "Chaos" having 25 and 5 million views respectively. It will be the success of these and future songs that will give more insight about what Rich Chigga symbolizes to his audience.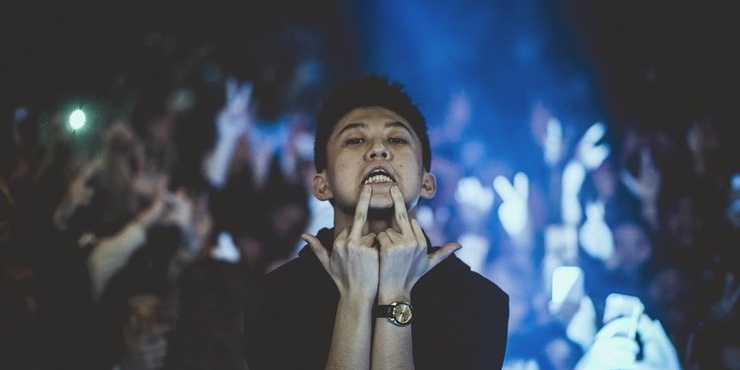 Unlike other Asian performers in the American entertainment industry, such as JabbaWockeeZ and Far East Movement, who have distanced themselves from their Asian identities by using sunglasses or masks, neither BTS and Rich Chigga attempt such precautions. Perhaps this is since they are from different countries where Asians make up most the population and did not grow up with the nuances of racism understood by Asian-Americans.
Neither Rich Chigga or BTS have reached the astronomical success of PSY, but they also do not match the emasculated Asian male stereotype as much as he does. BTS frequently highlights their masculinity in their performances, while Rich Chigga's raps continues to attract millions of views. The popularity of both musicians could imply a changing American perspective about Asian masculinity for the better. "Gangnam Style" was released only five years ago, and these younger male artists' entire careers have been made in even less time—if times are changing because of a new generation that challenges stereotypes, it could happen sooner than we think.